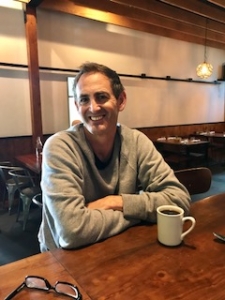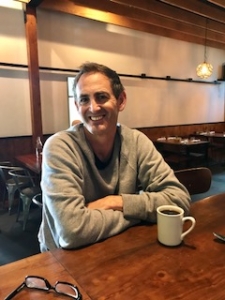 David Kohner Zuckerman, the President of ScriptCoach & founder of VPF, is a Hollywood Producer whose credits include "A Perfect Christmas," "The Fourth Noble Truth," "Strictly Sexual," & "All I Want for Christmas." Before starting DKZ Films, David ran Development for Silver Lion Films, where he worked on "Man on Fire" & "Crocodile Dundee in L.A."
David, also a licensed psychotherapist, is a terrific teacher who truly enjoys working with his clients. He's known as one of the best development people in the Biz, and has a supportive approach that consistently works with scribes of all levels.
A self-professed geek & DC Comics fan, Colin was an award-winning creative director & copywriter in Chicago before moving to LA and finding swift success as a screenwriter. Now a WGA member, Colin has two family features under his belt – "The Stream" & "Traveling Without Moving," and he wrote two episodes for the 2015 Emmy-nominated series, "Moochie Kalala Detectives Club." Besides writing, Colin's amazing ability to fix script problems quickly and his engaging personality have made him a highly sought-after script consultant. He truly cares about the projects he works on and really enjoys working with writers of all levels.
Looking to land an agent or sell your script? Our NEW, 3-month Elite Mentoring package is designed to help you with both. This is a proven program developed by Hollywood producer & VPF founder David Kohner Zuckerman. It's designed specifically for writers interested in making a career investment that is bound to pay off. As such, we provide personal guidance, screenwriting support & leads to both production companies & top reps.
Program Structure
Phase 1:
You will be provided 7-10 pages of detailed notes on your script from David & Colin.
You will have an hour long telephone consultation with Colin to support Phase 2.
Phase 2:
You will write a new outline for your first rewrite, based on your consult. OR, if your script is solid enough, you will move on to Phase 3.
You will have a second telephone consultation with Colin to discuss your new outline, and to prepare you for your rewrite.
Phase 3:
You will receive detailed annotations on your rewrite from David & Colin.
You will be provided a final telephone consultation to ensure your script is market-ready.
You will be given a professionally written logline, query letter & 25 FREE PITCHES on VPF.
Once you purchase, please email your script to david@scriptcoach.com. Don't miss out – spots will go fast!
TV Pilot (1/2 hour)
1/2 Hour TV Pilot
2 Months of Mentoring
7-10 Pages of Detailed Notes
3 Telephone Consultations
Detailed Annotations on Rewrites
Professionally Written Query Letter
25 Free Pitches at VPF
Feature Film
Feature Film
3 Months of Mentoring
7-10 Pages of Detailed Notes
3-5 Telephone Consultations
Detailed Annotations on Rewrites
Professionally Written Query Letter
25 Free Pitches at VPF
TV Pilot (1 hour)
1 Hour TV Pilot
3 Months of Mentoring
7-10 Pages of Detailed Notes
3-5 Telephone Consultations
Detailed Annotations on Rewrites
Professionally Written Query Letter
25 Free Pitches at VPF